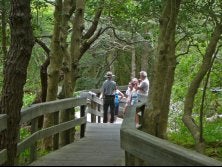 With spring just around the corner, it's now time to get excited about planning my modeling portfolio sessions on the beach! There's no better place to shoot that awesome swimsuit shot for your portfolio than on a beautiful location.
Over the past 15 years, we have discovered so many magnificent sites. This year we plan to visit them all.
One of my favorite places to shoot is Sunken Forest , located on Fire Island just west of Cherry Grove and the Pines. The forest is a globally rare occurrence situated behind the sand dunes. Under the diverse canopy of trees, there is a 1.5 mile boardwalk that meanders through freshwater bogs filled with a variety of trees and shrubs. It is a photographers paradise!
This session is for adventurous models only. We do quite a bit of walking through the forest and on the beach. As we're working on the details — contact Joyce for more information about our location sessions. Contact the studio at 212-861-0160 or joyceandersonphoto@gmail.com