About Joyce Anderson Photography in NYC
Meet your Photographer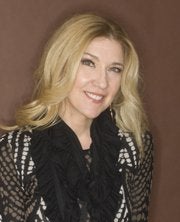 Native New Yorker Joyce Anderson is an award-winning photographer whose work has appeared in numerous publications including Vogue, Town and Country, Harper's Bazaar, Architectural Digest and many others.
Joyce Anderson Photography, established in 1995, is conveniently located on the Upper East Side of Manhattan.
Joyce creates headshots and portfolios that command attention for fashion designers, models, and performing artists. For her business clients, she produces headshots, provides live documentation for corporate events and promotions, and creates powerful product images for advertising campaigns, brochures and catalogs.
Joyce Anderson Photography is a full-service studio. Using state of the art cameras, equipment and editing software, she produces high-quality work while ensuring fast turnaround to meet the needs of her clients.
Joyce worked her way through college as a model and understands the demands made on artists from both sides of the camera. She provides a relaxed, creative environment that puts her clients immediately at ease in the studio and on location. She gently coaches her subjects to help them achieve emotional authenticity on camera. Joyce is a perfectionist who works with top makeup designers and hair stylists. As a photo stylist and art director, she has a keen eye for every nuance of the visual presentation – environment, clothing, make-up, hair, accessories – translating her subject's essence into iconic images.
Whether you're a model, actor, musician, popular entertainer, business professional, corporate V.I.P. or an individual who wants a lasting memory, Joyce Anderson captures images that speak to viewers through a visual language we all share.